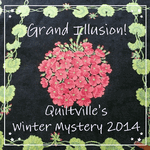 The Grand Hotel on Mackinac Island is one place I have always wanted to visit. Bonnie used this hotel as the inspiration for her new mystery quilt. The quilt is titled Grand Illusion. I was
intrigued already but then she shows us the pictures that inspired the fabric she is using and I was sold. Of course you don't have to use these colors but, I will if I can get them to play nice together.


Here are some pictures I found on the internet of the hotel.
Here are the awnings she talked about. I think I went to gold with my fabric. I love yellow so I think I will try to find a more clear yellow.
Oh my Look at that pink. I love it! I know the background is black but my monitor is reading navy. That might be pretty too.
More of the bright yellow.
What a beautiful room.
I am definitely going to go there someday. Beautiful. I can't wait to see the Grand Illusion.

I have pulled some fabric but I am not loving it yet. It need something but I'm not sure what. I am taking suggestions.
Any way if you are interested in learning more about this Mystery Quilt you can find it directly from the designer herself Bonnie Hunter Mystery.